Ready to book a consultation with us? Click here to open our booking calendar + pick a date that works for you. We are looking forward to connecting with you regarding your upcoming event! PS, make sure you've completed your 'Client Contact Form' prior to booking. If you haven't completed this yet, scroll down + click the link to complete.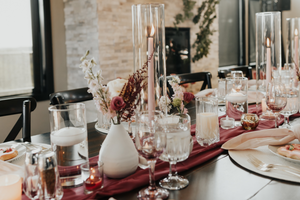 What to expect:
Consultations take place through Zoom + are about 30-45 minutes long. During this time, we will get to know you + all the important details about your upcoming event. We will also chat about all things style/design, what working with us looks like + more. After your consultation, you'll get a personalized Style Board of design ideas with our rental pieces + a detailed quote. From there, we'll work together to make your event fit your vision!
Photo Credit: Marisa Claire Photography
Client Contact Form:
If you did not fill out our Client Contact Form yet, please do so now! This form will give us all the initial information we need to be prepared for your upcoming consultation. You can fill out the form by clicking here.
Photo Credit: Kendra Lauck Photography
How to prepare for your consultation:
Don't stress - we're here to make things easy for you! All we need from you to prepare for your consultation is the completed 'Client Contact Form' (link above). If you have a Pinterest board or any other inspiration, we'd love to see it either during your consultation or before so we can get a better idea of your style. Other than those things, we'll go through everything else during your consultation. We can't want to chat!
Photo Credit: Everworth Photography