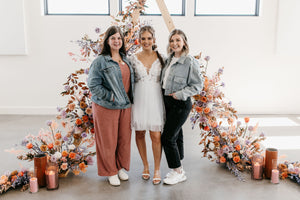 Meet the AFA Team!
Hey! We're Karen, Brooke + Hailee; Co-Owners of A Family Affair Event Styling. We are a mother-daughter trio who love all things style, parties + serving others. We specialize in event styling + are here to help make all your event dreams come true! We launched our business in February 2021 + have loved every second of serving our clients.
A little backstory on how we got started...
Hails texted our family group chat one day + presented the idea... Let's start an event styling business! Brooke + Karen were on board right away, and the buying began (yes, that same day!). We've always dreamed of owning a business together + with our love for hosting parties and styling, this was the perfect new adventure for us. What started as a quick text + a few inventory pieces in a spare bedroom quickly turned into a full calendar for our first year + an entire inventory space (that's FULL shall we mention). We couldn't have dreamed that our business would take off so fast + that we would accomplish so many goals within our first year. Now, here we are in our third year of business with another full calendar, SO many new inventory pieces + BIG plans and goals for the future. We can't wait to continue to grow + provide an exceptional event styling experience for all our current + future clients. Cheers!
As Seen In - Minnesota Bride, Wisconsin Bride, Lake Bride Magazine, Wedding Chicks, Edina Magazine, Woodbury Magazine, Minnetonka Magazine + Plymouth Magazine
Hey, it's Karen!
Hey, It's Brooke!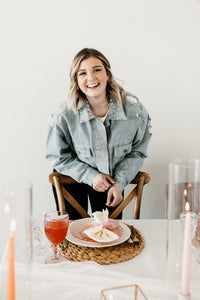 Hey, It's Hailee!
Let's create a dreamy event together...are you ready?!